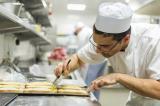 During his lifetime Antonio was chef ambassador of The Clink and a huge supporter.
The Clink Charity aims to break the cycle of crime by changing attitudes, creating second chances and reducing reoffending rates.
The Clink provides prisoners with an opportunity to gain new skills and qualifications in catering and horticulture. They then support the graduates to help them secure accommodation upon release. This offers them a real chance to return to the community with the ability to turn their lives around which will cut crime and improve public safety. The excellent outcomes of this programme are underlined by the Justice Data Lab audit – prisoners are 49.6% less likely to reoffend by entering this programme.
Visit website
"Antonio was The Clink's first chef ambassador at HMP High Down in 2010 until 2017. He always engaged with the prisoners in training and in the early days ran masterclasses. He attended many of our events including restaurant openings, book launches where he provided recipes to be included. He was a great role model for our students."

Chris Moore

CEO The Clink Charity