Recipes
Cod Marinated with Dill
Merluzzo Curato All'Aneto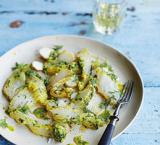 Ingredients
Serves 4
500g (1lb 2oz) fresh cod, in the piece, filleted
60g (2¼oz/just under ¼ cup) salt
60g (2¼oz/just under ¼ cup) golden caster sugar (superfine sugar)
2 bunches of fresh dill, finely chopped
2 teaspoons English mustard
1 tablespoon freshly grated horseradish (optional)
1 tablespoon coarsely ground black pepper
Method
Dill, or aneto as they call it in Italy, used to be more common in Italian cookery a couple of centuries ago, and has now started to be popular again.  The Swedish gravadlax is a prime example of how to marinate a fish to be eaten cured.  Cod is used here, instead of salmon: the taste is very clean and fresh, making it an excellent starter

Ask the fishmonger to take the skin off the piece of cod, and to remove any bones.

Put half the salt, half the sugar and half the dill into the base of a ceramic or steel container big enough to hold the piece of cod.  Mix the mustard and horseradish (if using) together and spread on both sides of the fish, with plenty of ground pepper.  Put the fish into the dish, and cover with the remaining salt, sugar and dill.  Cover the fish with foil and keep in the refrigerator for 2 days.

Serve thin slices of the cod with some sliced boiled potatoes or with toast.
Back to recipes